10 Best Anal Vibrators 2017
If you're looking to expand your horizons into anal play, you're in luck as there are plenty of toys to choose from.
If you like a little or a lot of vibration as a part of your play, you will want to look into buying an anal vibrator.
It's important to use vibrators specifically designed for anal play for maximum comfort and pleasure during sexy adventures.
If you're thinking of buying an anal vibrator and are looking for the best anal vibrator for your tastes and preferences, keep reading!
Top 10 Anal Vibrators Comparison Table
Getting the Most out of Your Anal Vibrator
Anal vibrators are specifically designed in such a way that they fit the anal cavity and can be maneuvered with maximum comfort and ease. Other types of toys may not be the right material, size or design.
Here are some tips on using an anal vibrator:
Get Clean. Use an anal douche to ensure that your play is sanitary.
Lubrication. Choose lubrication specifically designed for anal play. Usually this type of lube is often on the thick side, so you'll want to be sure you're okay with getting a little messy.
Make sure that your toy is compatible with your lube. Apply generously both in and around your anus and onto the toy.
Insertion. Get in a tabletop position and insert very slowly, stopping whenever you feel uncomfortable. It may take a bit of practice to build up. Try out different levels of vibration intensities to figure out what you like best.
Start Small. It's a good idea to start with a very small, narrow anal vibrator if you are new to anal play. There are also starter kits which come with toys in different sizes so that you can experiment as you build up.
Anal Vibrator Design
There really are a huge variety of features in anal vibrators. Beyond just size, they come in a range of shapes, materials and textures.
Here are some things to consider before you purchase:
Materials. You can find anal vibrators in PVC, rubber and silicone. Silicone seems to be a top choice because this material is generally very easy to clean, smooth and durable.
Design. Most of the smaller butt plug type anal vibrators come in a tapered shape for optimal comfort. More advanced users may want to try out curved, bulbous, textured or beaded type vibrators.
Some toys are designed for two people to use at once. Some look more like plain dildos and resemble a penis, and others come complete with thick handles and curved ends for prostate massage.
Loudness. Some of these toys are quite noisy, so if you're worried about others overhearing you, you may want to consider something a little on the quiet side.
Top 3 Best Anal Vibrator Reviews
This is an absolutely wonderful starter vibrating butt plug that features 10 vibration patterns for optimal pleasure and experimentation. It has a tapered end and is made with silicone so it's smooth and easy to insert.
Both women and men can feel comfortable using this as a starter toy. You just start with the 2.5-inch circumference and work your way up to 4, which is the widest part of the tapered end.
Use the Bedtime Bullet by yourself or with a partner, using the wired controller to take advantage of the different vibrations for fantastic P-spot and blended orgasms.
This is a very slim vibrator so it is not intimidating at all to use while you are working your way up to bigger models. Be sure to use a lot of lube and you will be pleasantly surprised at the otherworldly set of sensations you'll feel.
This is a very unique option for those looking to enhance their anal play in new ways. The inflatable option is particularly interesting because it allows the user to really choose their preferred size and speed.
This rubber vibrating butt plug actually inflates from 5 inches to 9 inches around, allowing for maximum versatility and expansive sensations during play.
The wired controller makes it easy to increase and decrease the girth and intensity during any stage of play, offering an entirely different set of sensations than plain old silicone or jelly dildos and vibrators.
This vibrator is made with latex rubber, and is smooth and easy to insert. This toy provides optimal P-spot stimulation for anal and blended orgasms. It's also very portable and quiet, so it's discreet for those looking for something to travel with.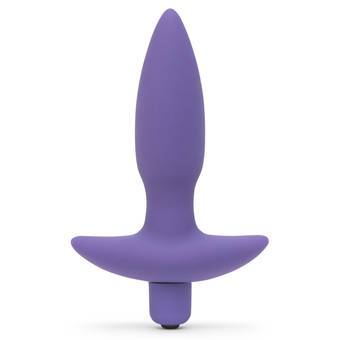 If you are looking for the best anal vibrator for beginners, look no further. This pretty purple toy is very small and non-intimidating for first-timers. It's a perfect little starter toy with a tapered bulb for easy insertion and optimal comfort.
This toy is sleek, portable, and perfect for using alone or with a partner. It also comes in 3 different sizes: small, medium and large. The t-shaped bar offers optimal grip and 5 different functions mean that you can experiment with different intensities.
This butt plug is made from silicone and uses one AAA battery (not included). Be sure to use it with non-silicone lubrication.
Try the Butt Tingler on for size and experiment with P-spot or blended orgasms for unexpected heights of pleasure. If you've never tried a vibrating butt plug before, get ready for some seriously tingly fun.