6 Best Condoms for First Time 2017
If you are new to sex, not only is it necessary to be concerned about your technique and the pleasure of your partner, but also about the preliminary steps, such as the use of contraceptives.
Condoms will usually be the most hassle-free option, which will mean knowing which ones to get and how to use them.
In view of you being unused to using condoms if using them for the first time, you will need simple examples that are easy to use.
By getting the best condom for first time, the risk of any problems can be alleviated.
Top 6 Condoms for the First Time Chart
How to Determine the Best Condom for First Time
Using condoms for the first time can be a daunting prospect, and fumbling around with them can detrimentally change the mood. In order to avoid the risk of dampening the romance, it is a good idea to use condoms that are best for the first time.
These would include a range of features, such as:
Packaging. If the packaging is tough to open or awkwardly shaped, attempting to get to the condom could result in it inadvertently being ripped. To avoid this type of problem, ensure that the condoms you obtain are in easy-to-open packaging.
Size. A point that might cause some confusion is size if it is assumed that condoms only come in one size. Check the size of the condoms before making a purchase, as these can differ.
Material. Many condoms are made from latex, so it is necessary to be aware of this and ensure you obtain ones made from a different material if you are allergic to this material.
Instructions. Condoms that come from a quality brand will comprise details about them on the packaging, which may include instructions on how to put them on.
Quantity. Until you find a type or brand of condom that you prefer, it is best to avoid buying a large quantity and stick to individuals or a pack of three, so that you are not left with condoms that are not suitable for use.
Top 3 Condoms for First Time Reviews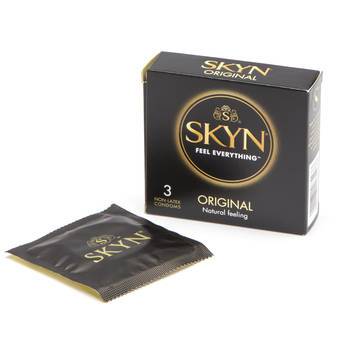 The Mates Skyn Non Latex is a pack of three condoms that are made from a material unique to the brand called Skynfeel. They are entirely latex-free so are suitable for those that have an allergy.
The material is 0.65 microns so it is thin enough to allow to create a skin-to-skin sensation that does not inhibit sensitivity.
It is also pre-coated in lubricant, so it is can be slipped on easily without hitching on the skin.
At seven inches long, they are a regular size and have a circumference of two inches, which means they are suitable for a man of an average size for a comfortable fit.
Mates Skyn Non Latex condoms are a great example of condoms that can be used by first-timers.
Mates Skyn Extra Lubricated Non Latex condoms are latex-free, but are just as strong and are extra thin, so they offer all the benefits without the distinctive latex smell.
They are still soft and thin enough to allow them to create a natural feel during use, ensuring that no sensations are lost during intercourse.
The use of the Mates Skyn Extra Lubricated Non Latex means it is not necessary to use a separate lubricant as it is already on it in an amount that is 40% more than usual. This makes them pleasingly silky smooth and easier to put into place than without using any lubricant.
The box of ten means there are plenty and the packets are easy to open to get the condom.
The Mates Skyn Extra Lubricated Non Latex condoms are great for first time users who can benefit from the lubricant.
The EXS Black Fantasy condoms offer a great way for first time users to add some more fun to their sex life. These stylish looking condoms are out of the ordinary as they are black tinted for a different appearance.
They are shaped in a manner that is anatomically correct, so they are more likely to fit better with a flared tip and tapering down to the base. At just over seven inches in length, they are regular sized.
The silicon-based lubricant that coats them does not just fade away and lasts a long time.
The EXS Black Fantasy are the best condom for first time for those who want to add some extra play to the bedroom.