Having some good quality sex toys in the bedroom will no doubt spice things up in the best ways possible. If you are curious about dildos, you'll be happy to know that there are a surprisingly huge variety.
Dildos are perfect for people who prefer penetration without vibration, although some dildos also vibrate, so you can have the best of both worlds.
Here's a list of some of the best dildos on the market. We've included a range of different types for various penetration preferences and sexual sensations.
Top 10 Dildos Comparison Table
Types of Dildos and What They Are Best For
When it comes to sex, it's all about sensation, and that's why, especially for insertion, simply choosing the right material can make a huge difference in every type of play. Using different types of dildos can also lead to different types of orgasms.
Types of Dildos
Dildos come in a huge variety of shapes, sizes, lengths, girths, and even colors. There are longer dildos, broader, shorter, more firm, less firm, and vibrating dildos.
Some special dildo features to look out for include:
Suction Cup Base. Dildos with suction cup bases offer a nice option for people who like to be on top doing the work. They can be attached to a variety of materials and stay in place well.
Vibrating. There are a few dildos out there that have vibrating options and are fun to try out for a variety of types of stimulation. They will offer different speeds, patterns, and vibration types to test out in various ways.
Anal. Many dildos are specifically designed for anal play, and some come with bumps or beads along the shaft to give the same sensation of anal beads.
Facts on Dildo Materials
Depending on what you are using your dildo for, you'll want to choose a material that you feel comfortable using in sensitive areas. There are a huge variety of textures, weights, and even shapes.
If you think about what kinds of things you like to have touching your skin, you can figure out what type of dildo you might like. Or you could go for something entirely unexpected. For instance, heavy materials like glass and steel can offer unexpectedly exciting new sensations.
Some of the most popular materials for dildos include:
Glass and Steel. These offer a certain type of smoothness and weight to your play that you won't get with other types of materials, creating unique sensations that softer dildos and vibrators can't. They are very sanitary, hypoallergenic and easy to clean.
These kinds of dildos are very versatile and are good for anal play. They can be cooled or heated, adding to the extra sensation and are very durable, and you can use any type of lubricant with them.
Silicone. Silicone is a top choice in dildos for a variety of reasons: It's flexible, comfortable, very easy to clean with soap and water, and comes in a huge variety of styles and colors.
Softskin. This is the material that's usually used with realistic-type dildos. It allows for a nice firm sensation that feels very lifelike and is very comfortable and smooth.
Combination. Sometimes the best types of toys offer more than one experience. You may consider something like a double-ended dildo to use with two people, or a dildo-flogger combination, for instance.
Top 5 Best Dildo Reviews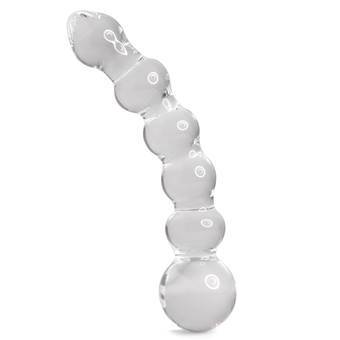 This curved glass dildo offers a super smooth, unique sensation. The beaded shaft creates extra pleasure for men and women. This is a very versatile dildo that can be used in a variety of ways: for vaginal penetration, for anal penetration and even as a massage wand.
You can use this dildo with all types of lubricant, which is wonderful if you're using it for massage. You can also use this to play with different sensations like hot or cold—all you need to do is stick it in the fridge for a few minutes, and you've got a whole new level of amazing sensations for yourself or your partner.
Using the curve in different directions during anal or vaginal play can create great opportunities for exploring different types of orgasms. And the glass is completely sanitary and hypoallergenic, so you won't have to worry about irritation in intimate areas.
This curved, steel dildo is so unique and beautiful, it would make a great gift for a lover. It is absolutely amazing for G-spot play, and can be used for anal play as well. The design allows for easy gripping no matter what angle you choose.
You can use this smooth, cool wand as a massage tool in a variety of ways. For instance, you can deeply enhance your pleasure by adding extra pressure or even changing the temperature to surprise your lover or offer yourself new levels of stimulation.
The njoy is great to use with or without condoms and will be crucial in experiencing the most satisfying types of G-spot, P-spot or blended orgasms you can imagine.
With a simple clean after every use, it will not develop unpleasant odors or hold bacteria over time. Just be sure to use a soft cloth to clean it in order to preserve the smooth surface.
This is such a unique product that's basically two toys in one: a dildo and a flogger. The glass dildo essentially acts as a handle for a well-directed swing, offering new sensations, whether you like it soft or hard.
The shaft is 6.5 inches and the glass works well for vaginal or anal penetration. The heavy, thicker tip is great for intense weight-based stimulation and deep anal or vaginal orgasms. The whip can be used for whipping or lighter tickling sensations.
Since the dildo is thick and heavy, it's not necessarily recommended for beginners. But with a little foreplay and a generous helping of lube, you'll experience a wonderful, smooth buildup.
Working your way up to orgasm by alternating penetration and flogging with the Icicles glass dildo is sure to end in some out-of-this-world pleasure that will have your lover begging for more.
This toy is one of the biggest and best dildos out there for men and women who appreciate a wide circumference for some seriously deep orgasms and explosive satisfaction. The Lovehoney 7 Inch dildo is so fulfilling, it offers some seriously mind-boggling sensations that most people only dream of.
This PVC toy is 7 inches long and very girthy, with a very realistic texture and feeling. It is not for the faint of heart, and is only for the experienced users. Whether it's being used for individual or couple play, everyone using it should be sure to have a big supply of lube.
This dildo is so large, lifelike and robust that it will fulfill all sorts of fantasies. Whether you are alone or with a partner, once you bring this into the bedroom you will not want to leave.
This is a dildo that's definitely not meant for beginners as it offers some very intense depth-play. Using this very large dildo is a slow process to work up to and is not for every person. But when you're there, it's one of the most intense sensations you'll ever experience.
It's important to work up to this dildo as it's not for the faint of heart and is specifically meant for anal stimulation. Experienced users should work up to each of the 3 heads slowly, enjoying the feeling of fullness that each one brings for multiple realms of excitement.
If you are interested in the best dildo for anal stimulation, there's no doubt that 3 Bangs for Your Butt will offer you what you are looking for and so much more. Use lots of lube for extra-deep sensation and take yourself further than you've ever imagined.