10 Best Gay Sex Toys 2017
If you're looking to spice things up in the bedroom with your lover, why not try a new set of sex toys to have new adventures and sensations.
Maybe you've been really interested in trying out new types of sex toys, or maybe you have an idea of what you are looking to freshen up your toy collection with something new and interesting.
Take a peek at our list of the best gay sex toys and get ready for a whole new set of intimate adventures.
Top 10 Gay Sex Toys Comparison Chart
How to Choose a Sex Toy That Works for You
No matter what you're interest or preferences, there are a huge range of sex toys designed for male-on-male (or unisex) play.
When shopping for a new sex toy, here are a few things you will want to consider:
Materials. If you have sensitive skin you'll want to be sure to purchase toys and accessories that don't irritate your skin.
Vibration. If you prefer vibration, do you want it intense or light? How about other types of movement? You can find toys that offer a variety of sensation, including some that simulate sucking motions.
Ease of Use. Beginners should start with something simple. If you or your partner have movement limitations, consider purchasing a sex toy that is specifically designed to move on its own.
Which Sex Toys are Best for Beginners
Sex toys for gay men come in a range of options. If you are just starting out, there's no need to jump into anything overly complicated. Keep it simple and gentle and work your way up to bigger/more stimulating toys.
To start, you'll want to try:
Butt Plugs. These are simple and come in vibrating or non-vibrating. They are specifically designed for easy insertion and for you to work your way up to bigger sizes.
Look for a starter kit with various sizes. Use plenty of lube and take your time.
Prostate Massagers. These come in vibrating and non-vibrating varieties, and are a little bit more detailed than regular dildos or but plugs in that they typically have a handle for optimal grip and control.
They also have various curves and bulbs designed specifically for stimulating the P-spot (or male G-spot).
Cock Rings. You can find these in vibrating or non-vibrating options. They're simple rings that will help you maintain an erection. They are great for couple play.
Masturbators. These are not only for solo play. They are great for taking turns with your partner. There are a huge range of masturbators on the market, some designed for two people to use at once.
Top 3 Best Gay Sex Toys Reviews
This toy gives a whole new meaning to guy-on-guy pleasure. This is a stroker that has two open ends to accommodate two penises. It offers a range of stimulation types for optimal experimentation and enjoyment.
This toy is non-latex and hypoallergenic. It's very comfortable, soft and easy to clean. Use it alone, with a lover or in combination with other toys to create a range of realistic sensations.
The Ultrskyn Mood Exciter comes with a wide variety of textures to customize your experience. Use with a lube and varying amounts of hand pressure to experiment with various sensations for deeply satisfying orgasms.
This soft, comfortable and versatile toy is great for hand-play with a partner. It's also very easy to clean and dry out. It's also a great option for two if you run out of condoms or are looking for an alternative to regular anal play.
The Anal Fantasy combination cock ring and butt plug is so innovative and effective, it's definitely one of the best gay sex toys available today. The plug is a little on the large size, so beginners might want to skip this one.
Designed for double-satisfaction during anal play, this toy is designed to induce intense blended orgasms for men who are looking for new ways to attain blended P-spot orgasms.
This is a great toy for solo or couple use, and is super smooth and easy to use. Simply slip the ring onto the penis to intensify your erection and keep your partner stimulated while you enjoy anal stimulation from the butt plug.
This is a very intense tandem toy for those looking for very deep and intense stimulation. The toy is sold with special lube and toy cleaner to help keep it in the best shape possible.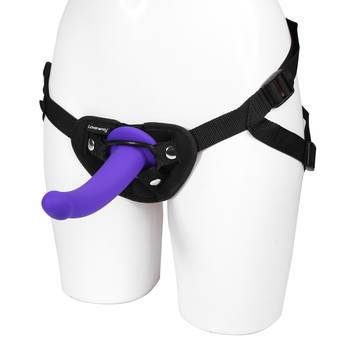 This 7-inch silicone dildo harness kit is a great option for lovers of any gender or preference who want to experiment with strap-on sex. The dildo is designed for optimal stimulation of G-spots or P-spots for smooth and fulfilling penetration.
The straps can adjust from 28 to 65 inches, making this an extremely versatile choice for partner play. The harness is machine-washable and the set comes with different sized O-rings to accommodate a variety of dildo sizes.
This harness also comes with an area that you can insert a vibrator on the inside, for women who want some extra clitoral stimulation while wearing it.
Whether you are using this for vaginal or anal play, always use a lot of water-based lube with this toy, as silicone lube will break down the silicone toy.