10 Best Lubes for Masturbation 2017
One of the things that can make sex go from good to great is super simple: lube. Moreover, this holds true whether you are solo or with a partner.
Both women and men may have different preferences with regards to the overall feel of a particular lube, and some might experience irritation with certain types of lubricant, so researching a few different types and trying them out on your own is important.
So, what's the best lube for masturbation? There are so many types to choose from, so read on to find out.
Top 10 Lubes for Masturbation Ultimate Table
Masturbation and Lube
There are a so many lubes out there, how do you know which is best for solo sessions?
Well, you can start by trying a few different types out.
Here are a few tips for using lube for masturbation:
Use Real Lube. Using lube is actually important for the health of your genitals. While some people may like more friction, it can cause delicate skin tissues to tear and possibly even scar over the long term.
Don't use household items like shampoo, toothpaste, conditioner or creams as this can lead to major skin irritation.
Flavored Lube. Women especially can be more prone to irritation and infection with lube that is full of sugar and artificial ingredients, so they should use those sparingly, if at all. Natural alternatives are going to be healthier for regular use.
Here's a Breakdown of Some Different Types of Lubes, Complete with Some Precautions
Oil-Based Lube. Oil-based lubes are super smooth and tend to last a long time. They are great for masturbation and massage. Be careful, however, as they could stain the sheets.
Enhancement Features. For masturbation only you probably won't want to bother investing in flavored lubes, but it might be a nice opportunity to try a warming or sensation type lube.
Don't use these types of lube if you are sensitive or prone to allergies use them with caution or not at all. Test a small amount on your skin just to be safe.
Water-Based. These are the gentlest types of lubes to use but don't last as long so need to be applied quite frequently. They are made to be similar to the cervical mucus in the vagina.
Silicone-Based. Silicone-based lubes are awesome and long-lasting but don't use them with sex toys as they will cause the silicone in the sex toys to break down.
You can't use these with sex-toys though as silicone bonds with silicone and can ruin the toys.
Top 3 Best Lube for Masturbation Reviews
Sliquid tops off the list for best lube for masturbation because it is such great quality while also being all-natural. Whether you are using it for masturbation or not, you really can't go wrong with a lube that is so incredibly clean and gentle.
This lube is full of all natural ingredients like flax and green tea and is also vegan-friendly, so it's healthy for the earth and even for your body – who can go wrong with a product that's a win-win all around?
You can use it with condoms and with any sex toy that you like. Plus, it never gets overly sticky and doesn't smell or stain at all. It's very easy to wash off of everything.
This is a great lube to use a lot of, especially because it may even be good for your skin. It is hypoallergenic and non-irritating, so it is a safe product for all users in general.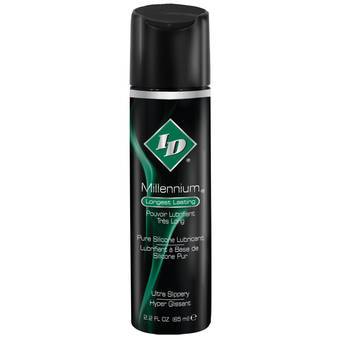 Silicone lubrication is absolutely excellent for comfort and longevity, and the ID Millenium comes out on top time and time again. It tops our list because it is deeply rich and concentrated, so one bottle will last longer than water-based lubricants.
Just a few drops of ID Millennium will take you much further than you expect. You can also take this lube into the shower or bath and will be surprised at how fun and comfortable it is in the water.
Silicone is also used as a household item as you can use it to help get tight latex fetish clothes on.
You can use this lube with condoms. It's so sleek and effective without ever being overly sticky or greasy, it's really a miracle for those who need lube that lasts all night.
Gun Oil is a high-quality silicone lubricant designed specifically for men to use for masturbation. It is specially formulated to be very long-lasting and stays smooth and non-sticky.
You can use it and enjoy intense masturbation sessions for long periods of time without reapplying. It also does not taste or smell like anything, so it's great to use solo or with a partner.
This lube contains Vitamin E and Aloe Vera, adding to the smoothness and taking away from chafing and irritation, which is one of the reasons why it makes for the best lube for masturbation for men.
It is quite surprising to find out how little you really need this lube for an entire masturbation session – all you need is a couple of pumps and you're good to go. For all the ladies out there, there is a version designed especially for you as well.
Use soap and water to wash off and be sure to clean up carefully.