7 Best Non-Latex Condoms 2017
There can be many reasons for you not to use latex condoms, such as being allergic to the material or not liking the feel of it against the skin.
When this is the case, you will still need an option that will keep you safe during sex to prevent STIs and pregnancy.
Fortunately, there are effective alternatives available on the market for those who are not inclined to use latex for whatever reason; the best non-latex condoms can be used by those that need them.
Top 7 Non-Latex Condoms Complete Chart
Benefits of the Best Latex Free Condoms
The first and most important benefit of non-latex condoms is the obvious one – that they do not contain any latex. In order for them to be effective, they cannot even contain a small percentage of latex.
This is most handy for those that are allergic to latex, which will offer them peace of mind and will prevent them from suffering an allergic reaction, such as a skin irritation and itching.
The best non-latex condoms will be available in a number of varieties in terms of size, color and features, making them easily comparable to latex condoms so that we will not miss out on any aspect that can be enjoyed by those that use the latter.
Non-latex condoms can be made from a range of different materials, such as lamb skin or a synthetic material, and they will be designed to do the same job as the latex variety.
Non-latex condoms will be strong enough to be fit for purpose to make you feel secure when having sex, and will not put the user at a disadvantage for not using latex.
All of the benefits that are available with the use of latex condoms can be gained from the non-latex variety, such as:
These features help to ensure that the user will not suffer any detriment from use of them, allowing sex to be enjoyed in a safe manner.
Features of the Best Non-Latex Condoms
Spermicide. Spermicide is a substance that helps to kill sperm, which increases the effectiveness of condoms for the purposes of pregnancy prevention.
Lubricant. Condoms that feature lubrication will be easier to put on and will negate the need to use any separate lubricant and will offer everything you need in one.
Sizes. Non-latex condoms are available in a number of different sizes, including larger sizes which means that those who suffer an allergy will not have to miss out and can still be comfortable while having sex.
Quantity. Non-latex condoms are available in the same package types of latex condoms, such as a box of three or ten, which will make it easy to get a quantity that is convenient.
Features. The features that can be utilized by non-latex condoms can be beneficial in a range of ways, such as heightening pleasure or creating a new sensation, such as with a particular flavor.
Top 3 Best Non-Latex Condoms Reviews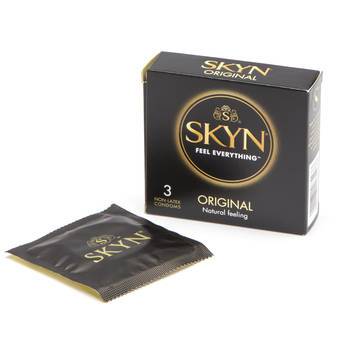 Mates Skyn Non-Latex condoms come in a pack of three and are made from Skynfeel, which is a synthetic material that is unique to the Mates brand. It creates a condom that is thin enough to create the sensation of there being skin to skin contact.
This does not stop it from being as strong as latex and there was no tearing during use.
It is a standard size at seven inches long and two inches around, so it is capable of fitting a man of an average size.
The Mates Skyn Non-Latex condoms are pre-treated with lubricant, so there is no need to use a separate one.
Mates Skyn Non-Latex condoms are a great alternative to latex condoms.
Mates Skyn Large condoms are larger than average in respect of the width, which is 56mm, so they are easier to put on and more comfortable to wear by those with extensive girth. They are seven centimeters long, which is sufficient to fit the average sized man.
The larger size makes them safer for use by those of a larger size as the risk of them splitting because they do not fit properly.
They are made from Skynfeel, which was created with the use of advanced technology to be an effective alternative to latex.
They are available in a box of ten, so there are plenty and they have a pleasing silky sensation that makes them easy to put on and take off afterwards.
Mates Skyn Large are ideal non-latex condoms for men with a larger girth.
The Mates Skyn Extra Lubricated are a pack of ten condoms that are made from a synthetic material that comprises no latex.
These condoms are made with 40% extra lubricant to make them easy to put into the penis and prevents friction during sex in order to provide the maximum amount of pleasure.
They are seven inches long and have a circumference of two inches, which makes them easy to wear by those men of an average size.
They come in a pack of ten, which ensures that you will have some spare when needed.
They are easy to use as the packet is simple to tear open though it kept the condom secure enough to prevent it suffering any damage.
Mates Skyn Extra Lubricated are the best non-latex condoms for those who want to reduce friction and the risk of an allergic reaction to latex.