10 Best Rabbit Vibrators 2017
You may remember a particular Sex and the City episode that worked wonders for empowering women about using sex toys. Charlotte purchases a Rabbit Vibrator and basically doesn't leave her house for days.
That one episode really put "The Rabbit" on the map—and it's no wonder: this is a very cool device that every woman should try at least once. There are plenty of types of vibrators on the market, but the rabbit is by far the most popular.
If you're thinking of buying one, there's no need to be shy. Every woman deserves to feel sexy and satisfied, whether alone or with their partner.
You might be surprised at the variety of rabbits that you have to choose from. If you've been wondering what all the "Rabbit" hype is about, read on to find out more about the best Rabbit Vibrator.
Top 10 Rabbit Vibrators Ultimate Table
How to Choose the Perfect Rabbit Vibrator
So you think you've narrowed your choice down by deciding to go with the Rabbit Vibrator over any others, but you might want to think again since there is a range of Rabbits out there and they all have slightly different features. Here's are some things to think about before making a purchase.
What's Your Preferred Type of Stimulation?
All of the Rabbits are amazing because they offer both vaginal and clitoral stimulation at once, but beyond that, there are plenty of other options and features to choose from.
It's important that you buy something not because it "looks" cool, but because it will genuinely make you feel comfortable and sexy. When shopping for the best Rabbit Vibrator, consider the following:
G-Spot or Not. If you prefer more pointed pressure on the G-spot, some rabbits have a curved, slightly pointed head for extra stimulation.
There are even some models with a separate motor in the top of the shaft so that you can get G-spot stimulation without moving the vibrator away from the clitoris.
Texture. You'll see that there are a variety of textures and shapes on both the shaft and the rabbit, such as ridges, rotating beads, and even brush-type attachments.
The Rabbit. You'll want to consider the placement of the "rabbit" over your clitoris. The ears are more ticklish, but a more rounded clitoral stimulator will feel smoother and likely offer more powerful, deep vibrations.
Size. Some women prefer to feel a fuller sensation in the vagina to bring them to orgasm, and you can find shafts in a variety of lengths and girths. Some vaginas are shorter, so you will want to bear this in mind in terms of the placement of the rabbit over the clitoris.
Top 3 Best Rabbit Vibrator Reviews
The Greedy Girl is the top choice on this list for a number of reasons. First, it offers 36 vibration combinations from 2 motors and 15 speed options so that you won't get bored. It's made of silicone, which is not only super smooth and comfortable on delicate body parts, it's also hypoallergenic and non-porous, so it cleans easily with basic soap and water.
The Greedy Girl is also not only waterproof but submersible, so you can really bring it in the bath for worry-free fun. The shaft has a separate motor than the clitoral stimulator so that you can experiment with a huge variety of sensations.
This Rabbit boasts a circumference of 4.75, so it's not the very thickest in the collection, but the overall design is sleek and smart, and it's likely to be a good fit for most people. The Greedy Girl is so versatile and discreet; you may never leave the bedroom again!
The Jessica line offers a range of wonderful, latex-free, easy-to-use products in a reasonable price point, all wonderful options for beginners or longtime users. This model features the classic, smart, easy-to-use design that made the Rabbit so famous in the first place.
If you are looking for something that will keep you excited for hours, Jessica will not let you down! This model features a straighter shaft with a rounded head and comes with a sweet band of rotating beads near the bottom of the shaft for extra vaginal stimulation. Speed and vibrate functions at the base of the shaft are easy to view and access.
The Jessica offers powerful stimulation in both the Rabbit ears and the shaft, offering 7 different vibration patterns to choose from, plus 3 speeds on the clitoral stimulator and 3 more on the shaft. It's also totally waterproof, perfect for bath time fun.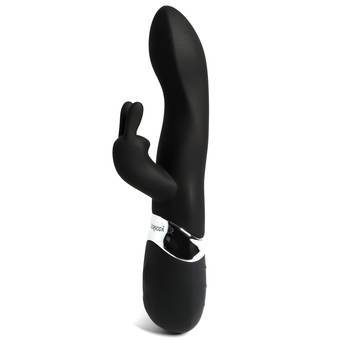 If you're looking for a smaller, sleeker Rabbit, the Tracy Cox Supersex is a little more subtle than some of the others designs that have lots of lumps and bumps. The shaft is completely smooth and slightly curved, giving you the option of some sweet G-spot massaging that's more soft than sharp.
With this vibe, you can easily switch between 2 speeds and five vibration patterns, then let the rabbit do the "flicking." There is one motor in the ears and one in the shaft, so whether you are using this alone or with a partner, there's always more room to try something new!
At a 4-inch insert length, this is one of the shorter rabbits on the list and is best for those who prefer less penetration or have shorter vaginas. The Cox is made with silicone, so it's easy to wash, hypoallergenic and super smooth on your skin.