10 Best Ropes for Bondage 2017
When it comes to BDSM play like rope bondage, it's important that you learn about the types of rope available and educate yourself on safety and comfort tips before you try it out.
For bondage in particular, there are a few different types of ropes you can use to restrain your partner.
It can be so much fun and there's so much to learn. You should be sure to have the right type of accessories to ensure optimal arousal and enjoyment.
That's why we've created this guide which will teach you about the best rope for bondage.
Top 10 Ropes for Bondage Comparison Chart
Bondage Rope Materials
Go to a beginner's bondage rope workshop and the first thing that they will tell you about is the different types and what each are good for.
Here are some pros and cons of the different types of rope out there.
Cotton. Cotton is strong, light and super comfortable. It's also very breathable which can be useful if you're in a hot environment and using a lot of it. It's not too heavy, and feels good on the skin.
The only problem with cotton is that the knots tend to pack down very easily, which means they are difficult to untie. This may not only be a comfort issue, but it could on rare occasions be a safety factor too.
Nylon. This is a very versatile rope which gives interesting indentations. It's strong, durable and washable.
Hemp. Hemp has an amazing organic feel to the skin, but can be a bit scratchy and rough (which some people like). It has an excellent hold, in that the knots last long.
One of the drawbacks is that washing will affect both quality and durability. Hemp rope should be dried taut in order to keep its form and shape over time.
Rope Bondage Safety Tips
If you are new to the world of rope bondage, you're in luck, as there are worlds of kinky and creative possibilities waiting for you. But it's important to bear a few safety tips in mind if you're first starting out.
Have a Knife Handy. If you are the one doing the tying (the top) and you think that your partner (the bottom) might be in danger, don't hesitate to cut the rope. Always have a sharp blade such as scissors or a knife easily available.
Keep Your Rope Clean. Always make sure that your rope is clean before you use it on a new partner.
Know Your Knots. Use only the types of knots that can easily be undone.
Body Areas to Avoid. Don't create a knot that will be on the spine if your partner is on their back, or put one in the armpit area. Never put a rope at the front of the neck, or put too much pressure at the front of the wrists.
You should also be careful to avoid tight ropes around the thighs. Be sure you can place two fingers in the space between the rope and the thigh.
Top 3 Best Rope for Bondage Reviews
When you are looking for the best rope for bondage play, and you are a beginner, you may want to consider getting a shorter, softer rope to keep things simple and comfortable. The Bondage Boutique 5-meter variety is a great option as it will leave nothing dangling.
This rope is very easy to use, plus it's soft and comfortable against the skin. You won't get these tangled up unnecessarily while you are in the middle of fun play. Use it on your partner's wrists and ankles and untie them in a cinch.
This rope is a great option for people of all levels who are interested in restraint and touch play as a part of their sexual adventures. It also features a matte finish which means that it won't get packed down as easily as other cotton ropes.
If you are new to bondage play and don't feel you know much about knots and ropes, it might be a good idea to start out with restraints rather than raw rope and the Bondage Boutique Soft Bondage Rope Restraints are a wonderful place to start.
These restraints are perfect for starters because they give you the freedom and flexibility to easily tighten and loosen restraints without having to worry about tying knots. They are super simple to put on and take off and you can use them with a huge variety of positions and even furniture types.
Each of these four restraints comes looped into a tied restraint already so you can easily slip them on and off.
Slip these wonderful restraints on your lover and watch them squirm with pleasure as you create your most amazing bedroom adventures yet.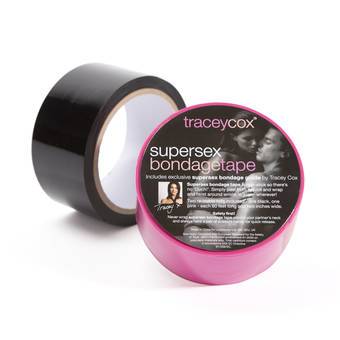 Restraint play can be loads of fun, so why not start simple by using tape?
This PVC tape is especially designed to be used as bondage restraints as it is created without the use of the type of strong glue that you'd normally find on duct tape. It's important that you use this alternative for bondage restraints for your safety.
Tracey Cox has designed this tape that's super easy to use whether you're a beginner or a novice. If you're wanting to try some games out but are a bit intimidated, try a little tape and just see how it feels for you and your lover.
This tape is clingy but doesn't need knots, so it's a good alternative for those who are not quite at the phase where they're tying their own rope knots. This tape also comes in a variety of fun colors if you're using it for costume play or club wear.