10 Best Vaginal Lubricants 2017
It's very important to have vaginal lubrication handy during vaginal sex to prevent chafing, burning and irritation. But it's not just a prevention technique, as it can make everything a lot more pleasurable.
Having a supply of good quality lubricant can make all the difference in the world comfort-wise.
There are many different types of products available, but some are clearly better than others are.
We've created this table of the best vaginal lubricants so that you can see what options are out there and choose one that is best for you.
All of the lubricants on this list are safe to use with condoms.
Top 10 Vaginal Lubricants Ultimate Table
Different Types of Lubes and What They're Used For
There are a surprisingly wide variety of vaginal lubricant out there, so why not try a few different types to find your preference?
If you are not familiar with the different types of lube, here's a breakdown, complete with some precautions.
Oil-Based Lubricant. Oil-based products such as coconut oil can be amazing natural options that are thicker and smoother than water-based lubes. They are great for things like massage and sex toys, but they are not compatible with condoms as they can break down the rubber.
Enhancement Features. Lubricants meant to enhance sexual pleasure come in different varieties, there are flavored ones, warming ones, and other types of lubes that offer different sensations when you use them.
If you are sensitive or prone to allergies, you should definitely either avoid these types of products or use them with caution, testing a small amount on yourself before heading into the bedroom, as you wouldn't want sudden irritation or allergies to ruin a fun session of lovemaking.
Water-based. These are the most natural and generally safest of the lubricants. There are a ton of different brands out there, but generally they are quite gentle on the genitals. These lubes are meant to be similar to cervical mucus.
There are a few very good quality all-natural water-based lubes out there. These lubes are odor-free, mostly tasteless and very unlikely to be irritants. They are great for all types of play and safe to use with condoms.
Silicone-based. Use silicone-based lubes if you want it to last a longer time rather than interrupting play for re-application as you would with water-based lube. Silicone-based lubes are great to use with condoms, and are very fun and effective in the shower or bath.
You can't use these with sex-toys though as silicone bonds with silicone and can ruin the toys.
Top 3 Best Vaginal Lubricant Reviews
Sliquid products are top quality, all-natural water-based lubricants. This one in particular came out a winner because it is hypoallergenic, free of odor, and organic, so it's safe to use in sensitive areas. It's very versatile, and is even vegan-friendly.
This is a water-based lubricant, so it's easy to wash out and it won't get too sticky or stain clothing or sheets. You can use it for anything you want in the bedroom, from sex toys to masturbation to any type of vaginal or anal play.
This is an all-natural product made with specialty ingredients such as flax and green tea, so you don't have to feel like you're using chemicals in your body. This product may even be good for your skin, so you don't need to feel bad about using a lot at a time.If you've been looking to test out a silicone lube, ID Millenium is one of the best vaginal lubricant products out there. This is a very rich and highly-concentrated formula that is perfect for a variety of types of play, even in the water.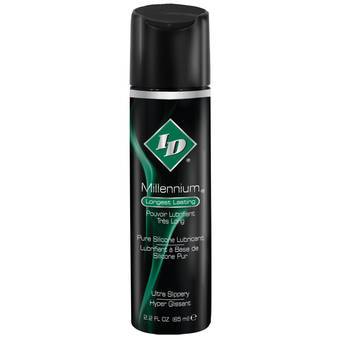 If you've been looking to test out a silicone lube, ID Millenium is one of the best vaginal lubricant products out there. This is a very rich and highly-concentrated formula that is perfect for a variety of types of play, even in the water.
Use this for any type of intimate play that you like, including solo and couple play. It lasts a long time without being sticky or overly slippery, and feels very natural, so it's great for extended sessions in the bedroom.
This is compatible with condoms and great for experimenting with in hot tubs, baths, swimming pools and showers. It won't stain clothes or irritate the skin. You can even use it to help get into tight latex fetish clothes.
The only thing you can't use this with is sex toys made out of silicone.
This lube is one of the top-rated products according to Men's Health. It's worth getting a big bottle so that you don't have to worry about running out during extra-long sessions. It's water-based, condom-friendly and perfect for use with sex toys, solo or with partners.
You can really use the ID Glide for all of your bedroom fun and it won't irritate or stain. It's odorless, clear, and super smooth. It is also tasteless, so you don't have to worry about unpleasant flavors sneaking into your session.
Using ID Glide really is the main piece of the puzzle when it comes to great sex of any type. You can get super close and play for hours, and it won't let you chafe. It's friendly for all tastes, activities and preferences, and is not overly slippery. It also lasts quite a while compared to other water-based lubes.